#clinics #contact infections #peace of mind for patient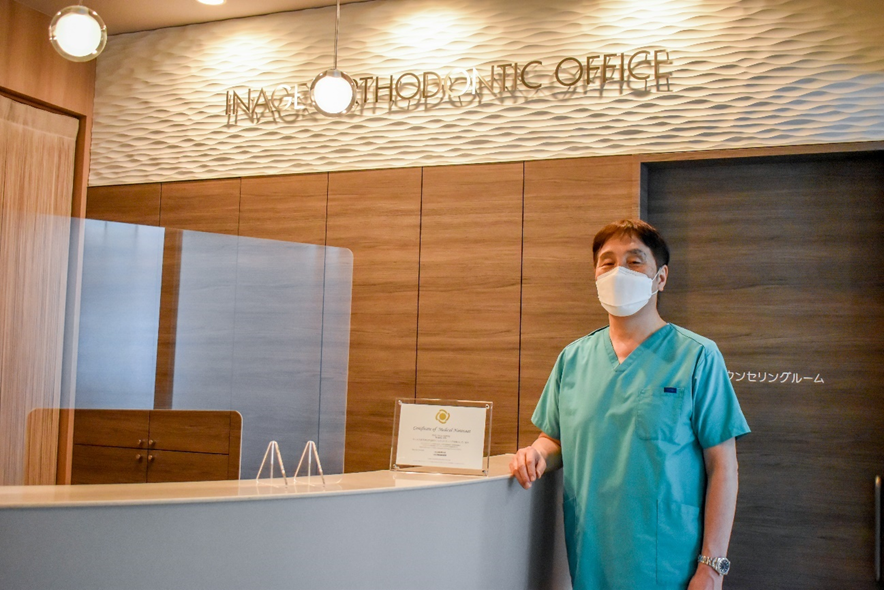 Inage Orthodontic Clinic
An interview with Dr. Shigeyori Inage, Director of the Inage Orthodontic Clinic, who has been making peace of mind for patients for 32 years since the clinic opened.
Medical treatment provided in a safe atmosphere.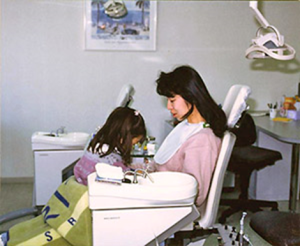 NASC:Thank you for adopting NASC Nano Coat in your clinic for infection prevention. With this interview, we would like to learn more about your idea "Making a clinic that provides patients peace of mind". Let us start by asking you what you value and what you aim to achieve in your clinic.
Dr. Shigeyori Inage (Dr. Inage) :I value communication greatly. Orthodontic treatment requires a year-long relationship with patients. We have a picture that we use as the symbol of our clinic, and we always want to be a medical professional who makes people feel completely at ease.
NASC:You have the atmosphere just like that picture of the mother holding her child on her lap which I saw on the home page! Speaking of that, you've done a great work with the children's toothbrushing page!
Dr. Inage: Many parents told me that kids won't let the parents brush their teeth…." and I wanted to show how to deal with such issues in an easy-to-understand way, so I asked my son who was 3 years old back then to be the model (laughs) and worked with an illustrator to create the book.
NASC:The page is full of your compassion. The clinic is also very nice and relaxing. We heard that you moved to this location last March.
Wish to build a clinic that can deal with COVID-19 for more peace of mind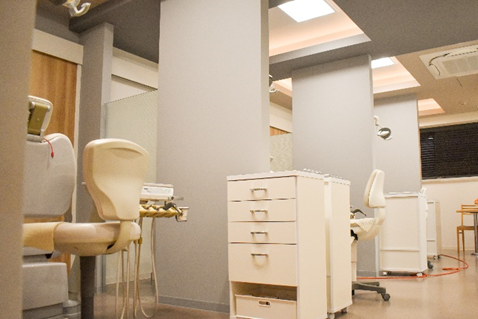 Dr. Inage: Around 2019, I started thinking about the limitations of our previous clinic….
First of all, it was the partitions. We could deal with it by taking down the screen, but that would be too simple (laughs), and also it was getting old. We just set our mind and made the move. The most significant factor was to "make the clinic that can handle COVID-19 situation.
Partitions are very important from the perspective of infection control and private space. However, we were very particular because children would feel uneasy if they were separated completely from the rest of the clinic area.
In the new clinic, we also introduced a device called Aero-Shield, which uses ultraviolet light to reduce airborne bacteria. We worked thoroughly with the manufacturer to verify how to make the device most effective.
NASC:That's wonderful. I can feel how hard and carefully you've worked.
Droplet and contact infection, two-step measures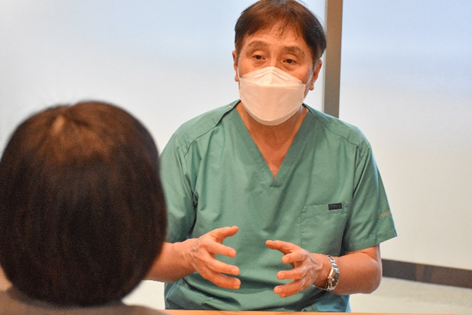 Dr. Inage: Considering the route of infection, I kept thinking how to deal with contact infection, with Aero-Shield having already taken care of droplet infection. As a medical professional, of course I would use alcohol disinfection.
I was aware that patients are also concerned about sharing the waiting room with a lot of other people. You can tell that they care by the way they sit, for example.
I was thinking that I needed to create an environment that would make people feel more safe, and then the person I know told me about NASC Nano Coat.
NASC:What was the key factor in your decision to adopt our product?
Dr. Inage: This may sound technical, but I took the time to read the materials you gave me, and the patent documents were the easiest to understand your product! I was able to understand how the coating works and learn other technical aspects. I could see that it is different from a product that is simply sprayed with an antimicrobial agent.
NASC:We are quite pleased to hear that as we do not get a lot of chances to have the product being evaluated so highly as coating agent from a development aspect.
Dr. Inage: I guess tungsten oxide and binder technology is your company's strength.
NASC:How was the reaction of people?
Dr. Inage: When we inform patients and their parents that the surface has been coated with NASC Nano Coat and that this has provided a safer environment for them to come to, they express their relief on their face and we received a lot of appreciation. (from almost all of the patients)
All of the staff also expressed their appreciation. Along with the joy of working in a more safe environment, the staff's motivation to work seems to have increased even more.
Some of our staff members are raising young children and others are taking care of their elderly parents.
The coating has made us feel more safe. The feeling of being protected has become stronger.
Continue to make the clinic a safe place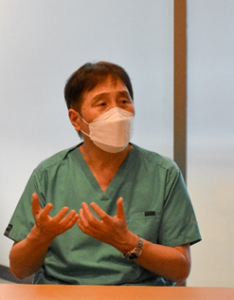 NASC: What do you think will be the future of infection control in the dental industry and clinics?
Dr. Inage: In the future, I would say that the next thing we need to be thinking about is "new avian influenza". We should be ready to respond to this no matter when it comes. Right now, it is hided behind COVID-19 but the main body of the new type influenza (new avian influenza) has not shown itself. It is scary to think that it might appear anytime soon. Thanks to your product, we have been able to take a two-tiered approach, one in the air and the other at points of contact, and I think we are in the best position now. I believe we are the only ones taking double countermeasures.
NASC:That's a model clinic for perfect antiviral protection!
Dr. Inage: Orthodontics is a year-long relationship, so I cannot say "Ok, I'm quitting" or "I'm taking a break" because of COVID-19, so I always try to maintain a high level of awareness. It is my duty.
Basically, orthodontics is not covered by insurance. As a provider of a service that is not covered by insurance, I believe that we need to take sufficient care of our patients.
NASC:Thank you so much, Dr Inage!